Having a Conversation About Aging - a Gift We All Deserve!
Dec 18, 2017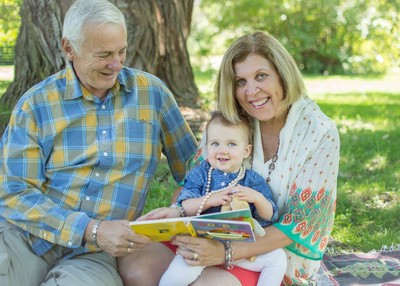 There has been a surge in popularity in recent years of DNA Ancestry kits. In fact, turn on the TV during primetime viewing hours, and the most casual viewer is afforded the opportunity to choose from any number of mail-order kits promising everything from a clearer picture of your ethnicity, to asparagus metabolite detection (Google it), to the ability to expand your family tree, confirming that you are, in fact, a 12th cousin to the Queen.

The kits also can test your risk for certain diseases, such as hereditary cancer-related genes, and predisposition to dementia. It is this latter function that led to my 68 year old dad, John's, enthusiastic "no, no, no" when my sister and I inquired recently as to whether he would like a DNA kit for Christmas. What my little sister and I thought would be an exciting and cool treasure to find under the tree was, in fact, met with great anxiety by my dad.

It's not that Dad's particularly afraid of getting older, but, like 2/3 Canadians, he has seen how heart-breaking the effects of dementia can be on a person's dignity, and the strain it can cause on the family members who sit by helpless, watching as their loved one slowly slips away from them and from themselves. Dad would simply rather not know whether the same fate that met his mom might befall him.

I can't say that I blame him. But, it makes having a conversation about aging, and Dad's wishes as to how he wants to be cared for, should he ever not be able to care for himself, very difficult. If talking about it within my own family seems impossible, there's no wonder it's such a challenge tackling it on a community and national strategy level.

In our Western society, aging is simply not sexy. For most of us, the day begins with a routine that might include the slathering of lotions all over our body for anti-aging and collagen-boosting, vitamins to enhance our health, elixirs of fish oil promising more supple skin, and a shameless look at the latest "it-girl" on the cover of a magazine wondering, what is her secret?

That's not to say that we shouldn't take care of ourselves and want to look and feel our best possible. Countless research says that when we look our best, we feel our best from the inside out. Taking care of ourselves in our youth can bring many health benefits later in life.

The "doting elderly" might be one of the last demographics still prone to easy ridicule and not yet taboo. Drooping skin, sagging arms, forgetfulness and silly old Grandma saying inappropriate things at inappropriate times – any number of these traits are easy birthday greeting-card targets. Aging brings intelligence, experience, wisdom and beauty, and yet our attitudes suggest otherwise.

Interestingly, studies in Japan and China have shown that the prevalence of depression and dementia is far lower than in Canada. The value of the elderly in these countries is different, where knowledge and every wrinkle and grey hair is something to be cherished and the contributions that the elderly have made, and continue to make as they age, is readily acknowledged. This suggests that culture, and embracing our aging, may actually lead to positive health influences.

But it's not just the superficial traits of aging that worry us. Certainly my dad isn't kept up at night wondering whether his night cream is doing its job.

There is a terrible trend in the media to only report "bad news stories" when it comes to caring for our seniors and vulnerable adults. "Residents died from badly-infected sores"; "Seniors improperly doped with dangerous anti-psychotic drugs"; "Investigation launched after senior dies in care home". These are all real headlines in Canadian news. It's not surprising then that my dad doesn't want to talk about his care wishes or that most individuals want to remain at home and in their communities for as long as possible.

These incidences are actually very rare and, it should be noted, can happen in any care home, whether government or privately owned and operated. The provocative headlines are meant to sell papers and elicit a gut-wrenching negative reaction from the reader. But if this is all that is reported, a consequence inevitably is heightened fear and reluctance to engage in the conversation of what needs to be done to prevent these things from happening.

The truth of the matter though is that, if and when the time comes, a move to supportive living or long term care can, in fact, be a positive and beautiful experience. Care providers are often pillars of their communities. All operators of continuing care facilities want to provide comfortable and safe homes for their residents. In response to a Health Quality Council of Alberta Resident Experience Survey measuring the experience of residents with the quality of care and services received at supportive living facilities in Alberta, a resident indicated "the facility is a real home, not because of the building but because of the staff. There is a culture of love that I believe flows down from the management to the vast majority of the staff."

The fact, however, is that Continuing Care providers struggle against rising costs, from food to cleaning supplies to aging infrastructure, so sometimes those negative headlines do occur. In combating these many costs, care providers have had to be innovative doing a lot more with a lot less, but the trend is unsustainable. Our senior population is swelling and our needs are becoming increasingly more complex, including the many dementias so feared by my dad.

Until it becomes fashionable and news-worthy to share the stories of the many seniors still running marathons into their 80s or winning barrel racing competitions at the Calgary Stampede, or of the Seniors' Centres volunteering in various community enhancing initiatives and providing great jobs and exceptional benefits for their employees, there will be an aversion to tackling the issue of what needs to be done to best support our aging population.

We need to appreciate aging and understand that, when an individual reaches a certain age, they don't suddenly change who they are; the person isn't overcome with an inability to contribute to their community or to enriching the lives of their families and friends. We need to start talking about how we can provide the best quality of life and enhanced wellness for the many individuals who need, or will soon need, care and supports. We need to raise awareness of what Continuing Care means within the broader community in addition to building community capacity and ensuring appropriate supports are available for individuals to safely age-in-place. Ensuring all providers of Home Care, Supportive Living and Long Term Care are able to deliver high quality, person-centred care, in order to provide people with meaningful lives worth living is equally as important.

Having that conversation with my dad would be a whole lot easier if we, as a society, had the conversation more often. While we cannot prevent aging, collectively we may begin to conquer our prejudice towards it. That's a gift we all deserve.

Contact:
Heather Aggus
ACCA Communications & Events Manager
780.435.0699 heather.aggus@ab-cca.ca