Happy Holidays from ACCA!
Dec 13, 2018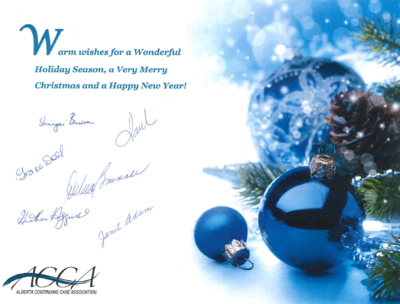 A time to reflect on the past and plan for the future
Your ACCA team would like to take this moment to thank our members for your engagement and collaboration over the past year, for your passion and dedication as we together work towards championing for quality of care, quality of life, and enhanced wellness for Albertans requiring Continuing Care. This is Our Mission, and together we are stronger! It is our diversity that truly allows us to best understand and communicate issues that most impact people requiring Continuing Care.
The holidays are a time of reflection and hope. The beginning of the new year provides an opportunity to take a breath and reflect on all that we have and the opportunity that lies ahead. We look forward to 2019 with great enthusiasm as we continue to look for innovative solutions to help you achieve your goals.
Wishing you a Very Merry Christmas, Happy Holidays, and a Wonderful New Year!