Media Release: Ground Breaking Ceremony for Park Place Seniors Living - Silverado Seniors Village July 9, 2019
Jul 09, 2019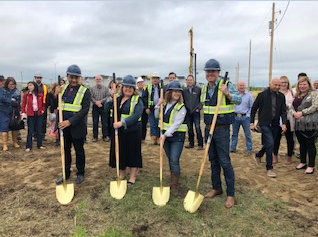 Calgary, AB – On July 9, 2019 the Minister of Health and MLA of Calgary - Acadia, Honorable Tyler Shandro and the Minister of Children's Services and MLA of Calgary-Shaw, Rebecca Shultz joined Alberta Health Services Executive Director of Seniors, Palliative and Continuing Care, Amy Good and the President and Owner of Park Place Seniors Living, Al Jina, for the momentous Groundbreaking Ceremony of Silverado Seniors Community in South Calgary.
Park Place Seniors Living;
Founded by Al and Jenny Jina, Park Place Seniors Living is a family owned and operated company based in Vancouver, British Columbia. Starting out as a nurse, Jenny has worked with seniors her entire life. Together with her husband Al, they opened their first location in Nelson, BC in 1993 with a goal to enrich the lives of seniors and define a new quality of care through innovation and creativity.
Today, The Park Place family has grown to include more than 30 residences located in communities throughout BC and Alberta.  The Park Place team serves more than 3000 residents and is trusted by seven health care authorities to provide residential long-term care and supportive/assisted living.
In Alberta, Park Place operates 12 Homes.  In Calgary, Newport Harbour Care Center supports 131 Long-Term Care Residents and the Park Place team is proud to be the Care Provider for the new 120 bed Generations Site, a Multi-Generational Housing and Community Center.
In 2005, Park Place made a commitment to quality with the adoption of Accreditation Canada's standards and processes.  Accreditation Canada is an independent organization that sets national standards for quality and safety in health care. The requirements include standards of excellence, required safety practices, assessment of the work environment, governance and client experience. Park Place remains committed to the quality journey and in May of 2018 received Accreditation with Commendation.
Park Place has also earned industry recognition and awards for innovations in seniors' residential care.  Among these is the unique Resident's Day program, which ensures that every resident is given a 'voice and a choice' in how he or she enjoys day-to-day life in a Park Place home.  Our "voice and choice" commitment ensures that the resident and their family member's voice will be heard, honoured and respected.
Silverado Seniors Village;
In February 2016, Park Place Seniors Living was awarded and contracted by Alberta Health to develop 74 Long Term Care residence spaces in South Calgary in the neighborhood of Silverado.  The company received a $5.18 million grant to develop this long-term care home under the Affordable Supportive Living Initiative (ASLI).  Once built, 129 residences will come to live in this beautiful new care home.
Long-Term Care is at the heart of what we do at Park Place. Seniors who can no longer live safely or independently at home due to complex health care requirements and/or cognitive decline and memory impairment are welcome and will receive care and service based upon their assessed needs. Our commitment to enriching the lives of our residents is integral to our service model ensuring we provide our residents with access to activities, entertainment, and opportunities to continue enjoying life despite continuing health issues.
A resident at Silverado Seniors Community can expect;
A furnished single room

A Personalized care experience with 24-hour skilled nursing care
Personal care assistance and support
Recreational activities, social and therapy programs
Safe and secure living environment
Nutritious meals
Respite and palliative care