Canadians reminded to give isolated seniors 'Gift of Time' during the holidays
Dec 13, 2018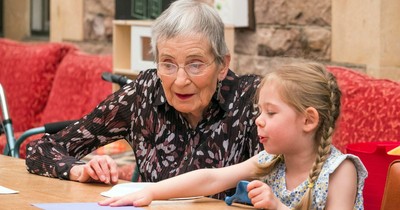 Awareness campaign launched across several provinces
December 13, 2018 (Ottawa, ON) — A public awareness campaign taking aim at social isolation among Canadian seniors during the festive season now crosses three provinces. The "Gift of Time" campaign is being promoted by members of Canadian Association for Long-Term Care (CALTC) as a way to raise awareness of the loneliness and social isolation many seniors face, when many families and friends are celebrating.
The Gift of Time public awareness campaign has been coordinated by seniors care sector associations, including the Alberta Continuing Care Association, based in British Columbia, Alberta and Manitoba during the month of December. It encourages Canadians to reach out to seniors they know who are living in a care home, or are living alone at home during the festive season.
"The best gift you can give during the festive season is the Gift of Time, is the message we want the public to hear," says Daniel Fontaine, CALTC Chair and CEO at BC Care Providers Association. "While many of us are never busier than during the month of December, it is seniors who are often left alone for long periods at this time of year. Just making a call or paying a short visit can greatly improve someone's quality of life."
Social isolation among seniors has been the subject of prominent public inquiries such as by Canada's National Seniors Council, and the U.S. Senate Aging Committee. A widely-cited study determines that the negative health impact of social isolation is equivalent to smoking up to 15 cigarettes per day. Both urban and rural communities across the continent have struggled on what to do about social isolation among seniors.
"We know that the feelings of social isolation are most acute among seniors, and especially this time of year," says Tammy Leach, CEO of the Alberta Continuing Care Association. "The Gift of Time campaign can help to start an important conversation on solutions."
"There is no better time than when people are celebrating the festive season with loved ones to remind them to reach out to a senior," adds Jan Legeros, Executive Director for the Long Term & Continuing Care Association of Manitoba, who is also promoting awareness in her home province.
5 practical tips for giving the Gift of Time:
1. Block out time in your schedule to contact a senior. Most of us can find time for a phone call.
2. Make sure holiday time with loved ones includes a scheduled visit to see someone you know living in a care home, or living alone. Always book in advance if possible.
3. Pay attention to seniors when winter weather conditions affect mobility. Offer to shovel or salt a sidewalk, or pick up a few groceries if they become housebound.
4. Invite an elderly family member or friend to a holiday gathering. There is nothing better than bringing together grandparents to visit with kids and grown-ups. Give yourself plenty of time for travel arrangements.
5. Offer to hang decorations or lights to brighten the holidays for an elderly neighbour who can no longer do it themselves.
For more information on the Gift of Time and other CALTC initiatives, visit www.caltc.ca.
About CALTC
CALTC is a national organization comprised of provincial associations and long term care providers that deliver publicly-funded health care services for seniors across Canada. CALTC members also represent care providers delivering home support services and care for younger disabled adults.