Breaking ground on a new vision for seniors care and wellness in the community - Clifton House
Mar 02, 2020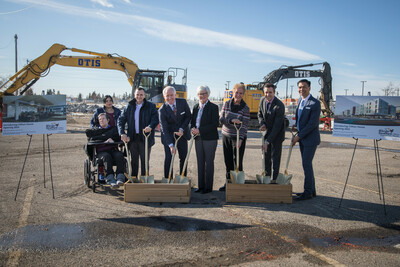 Calgary, AB – Construction of a new seniors care community broke ground in Calgary on Friday February 28, introducing the addition of Clifton House by Calgary-based charitable organization The Brenda Strafford Foundation.
The addition of Clifton House is a milestone step by The Brenda Strafford Foundation towards realizing the expansion of Clifton Village, an integrated campus of care and wellness for seniors in the greater Forest Lawn community. Clifton Village will encompass both the new Clifton House, and the future redevelopment of the existing Clifton Manor.
The Brenda Strafford Foundation and their employees, residents and families of Clifton Manor were joined by local community leaders and members to celebrate this milestone ground-breaking event for the new Clifton House. Students from neighbouring Jack James High School were present to turn soil on the new site, where they will continue to join in life-enriching and purposeful intergenerational programming with senior residents including art therapy, horticulture and more.
The existing Clifton Manor Long Term Care community is an established fixture in the local neighbourhood, previously known as the Forest Grove Care Centre, originally built in 1972. It was acquired by The Brenda Strafford Foundation in 2010.
Upon opening of the new Clifton House in 2022, residents of Clifton Manor will relocate to their new home across the street. Clifton House will offer Supportive Living and Long Term Care services to better support residents to 'age in place' as their care needs may change in time. Clifton House will also become the new home for Clifton Manor's KINDD Program supporting residents with a developmental disability living in continuing care. The Adult Day Program, providing respite and support to clients living in the community, will relocate to the new Clifton House.
"With every new project, we strive to break from the past and create something that not only enhances the care and quality of life of those that reside in our building, but also makes a broader contribution to seniors care and living, well beyond the walls of our communities," says Mike Conroy, president and chief executive officer, The Brenda Strafford Foundation.
"We believe that Clifton Village will have this kind of impact."
Long-range plans include the eventual redevelopment of the existing Clifton Manor site to include affordable housing for independent seniors, a vibrant seniors centre to support people staying in their homes in the community, a high school classroom dedicated to intergenerational programming, and a children's day care enhance a lively and inclusive environment for all ages.
Media Inquiries Julie Arnold, Manager, Communications and Marketing julie.arnold@theBSF.ca Office: 403.536.8682, Cell: 403.614.5820